The Student of MBTI Program Wins Medal Gold at GEMASTIK XIV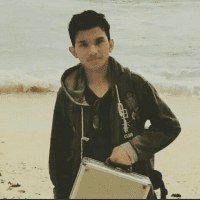 The 14th National Student Event for Information and Communication Technology or GEMASTIK XIV organized by the National Achievement Center (Puspresnas) of the Ministry of Education and Culture of the Republic of Indonesia (Kemdikbud RI) ended on October 7, 2021, but the excitement is still felt until now. Imagine, the biggest ICT competition in Indonesia was attended by at least 3,164 teams from 235 universities throughout Indonesia.
GEMASTIK XIV competed in 11 competition divisions, including Programming, Cyber ​​Security, Data Mining, UX Design, Animation, Smart City, ICT Scientific Paper, Software Development Smart Device, Embedded System IoT, Game Development, and ICT Business Development.
Until the final round which took place on 5-7 October 2021, 230 teams were selected and one of them was I Nyoman Prana Jaya Semedi with the Aipet Team, students of the S1 Business Management Telecommunication and Informatics (MBTI) Study Program, Faculty of Economics and Business. Not only qualifying for the final round, Prana also won the ICT Business Development category and won a gold medal. This achievement also led Telkom University as the host of GEMASTIK XIV to become the National Third Winner.
I Nyoman Prana Jaya has developed a business that focuses on collecting and registering pets using microchip technology. It aims to help the community and veterinarians, especially in Bali, in the process of collecting pet data that is useful as proof of pet ownership, recording animal health history, sterilization and vaccination, especially rabies vaccination, considering that the case of rabies in Bali is still quite high. The microchip used by Prana is a special pet microchip that has a special standard of ISO-11748/11785 whose installation is done by being injected into the animal's body using RFID (Radio Frequency Identification) technology which can be scanned and displays pet data from a database on the web.
Furthermore, according to Prana, the business he has developed has been prepared since a year ago with the hope that it will be accepted by the community and more broadly can be used by organizations such as WWF, zoos, animal protection foundations and even farms.